Welcome to the Ninjago Serpentine Wiki
This wiki provides descriptions of all the Ninjago Serpentine. please take a few moments to read this page and the rules http://ninjago-serpentines.wikia.com/wiki/Thread:3137 have fun!
Topic
The Serpentine were created by The First Spinjitzu Master, when he created Ninjago. They consist of 5 Tribes and 5 Generals. Acidicus (Venomari), Skales (Hypnobrai), Fangtom (Fangpyre), Skalidor (Constrictai) and Pythor(anacondrai) plus a group of Anacondrai Cultists lead by Master Chen
Important Notice
Here on the Ninjago Serpentine Wiki, we have ZERO tolerance for nuisance or rudeness. We wish for this Wiki to be a happy Wiki with no disruption. Any disruptors will be dealt with very strictly. If you have any problems, please contact the Admins (ToaMatau2004, DOGLOVER129, Ninja of Fire) or myself, Lavertus (talk) 23:15, December 13, 2014 (UTC) Founder. We hope you enjoy editing here!
staff
User:Lavertus-founder User:Ninja of Fire-head serpentine master (bureaucrat) User:ToaMatau2004-serpentine master (bureaucrat) User:DOGLOVER129-serpentine master (bureaucrat) User:LEGOFan999-chat moderator
Latest Activity
Photos and videos are a great way to add visuals to your wiki. Find videos about your topic by exploring Wikia's Video Library.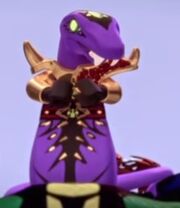 Community content is available under
CC-BY-SA
unless otherwise noted.